July 17 - 20: Grein - Vienna

A beautiful ride to Melk
This morning's breakfast buffet was unusual - first of all, we were never told what time it was. Usually they're very exact, and it starts at 7 or 7.30. So, we were downstairs by 7.40, to find nobody there, and no breakfast buffet. Eventually a lady came, got us coffee and hot chocolate. I was wondering what else would happen, because there was still no breakfast buffet visible. But what happened is that she started bring us our very own breakfast buffet, at our table! A huge assortment of the standard stuff (cold cuts, bread and rolls, juice, etc). Then when other guests came down, looking for their breakfast, they did the same for everybody.
It was a LOT of running around for them, and pretty inefficient and wasteful of food - unless they took the food back, and that would be pretty weird, once it's already at somebody's table. I think they were new owners, who didn't really know what to do. They're weren't Austrian, either, they seemed like they were from eastern Europe. I'm sure they'll figure it out, because the current setup was unsustainable.
After breakfast, we cleared out quickly, because today was a long biking day - 46 k, to Melk. We took the ferry right from Grein, there was a very friendly older lady who chatted with me a bit, she had been to Seattle 40 years ago. They were going to Melk as well, but didn't have anything reserved - it seems that most people, the ones who bring their own bikes, anyway, do not reserve rooms until the day of the stay.
The ride today was beautiful - the landscape is flattening out, occasional castles visible on the hills overlooking the Danube.
I had a nice chat with a Canadian lady for quite some time, while we were both biking. Peter and I had seen her and her family around town in Grein (it's a small town) a number of times. She had married an Austrian, and they just moved to a small town near Salzburg, to be near his family, and take over the farm. They were biking with their daughter, age 7. The dad had a long stick he was using, to push her bike forward, and make it a little easier for her. It seemed like she was having a difficult time adjusting, and learning German.
Unfortunately I got an email, while we were biking, that the hotel I'd booked (via booking.com) had made an error, and they had to cancel our booking. They did book us in another place, HOWEVER, this one has has no internet! That's 3 nights in a row of bad or non-existent internet in hotels. I use the internet on my sim card to do basic things, but to upload photos for this blog, because the files are so large and I don't want to use up the sim card, I went to the tourist office and used their wifi.
Dinner was at the Gasthaus zur Post. I had backhendl - which is baked chicken (I thought). I was surprised when it came out fried, not baked. That's the second time that's happened. There were a few tables of older people when we sat down to eat (early, around 5.30) having some rowdy card games, using coins as counters (or betting?)
This is the first place we've been to that I've seen Chinese tourists again, being shepherded through town in groups. It's probably more noticable because it's a one-attraction tourist town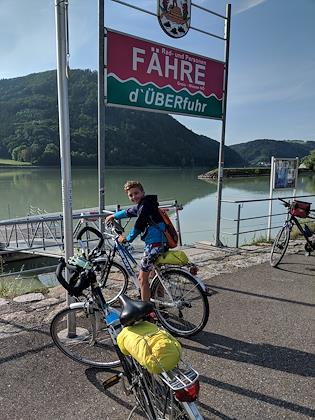 Waiting for the ferry in Grein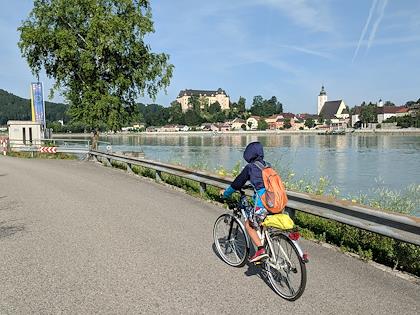 I staged this because I thought it was a good view - in this photo, Peter is headed upstream, but we're actually going downstream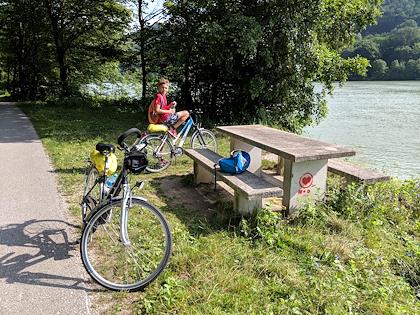 It was a long ride, so we took plenty of breaks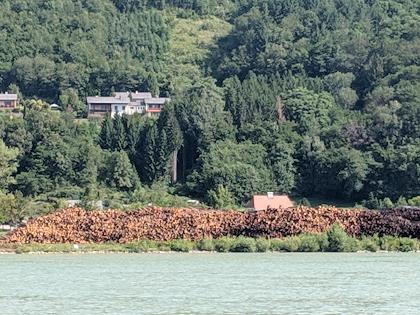 These logs had sprinkler systems spraying water on them.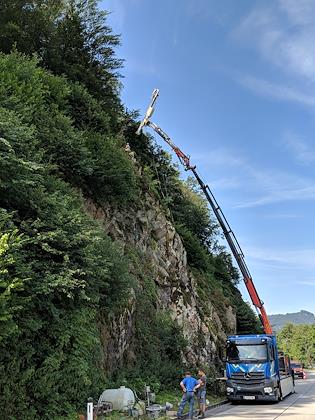 I think this road crew was removing potentially dangerous boulders - one of the trucks said "sprenngstoff" (explosives)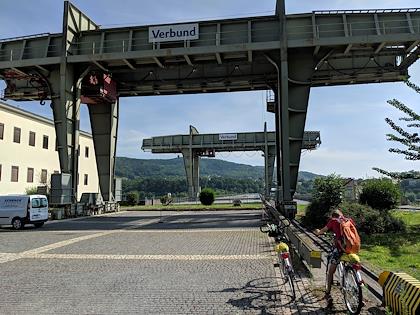 The dam at Ybbs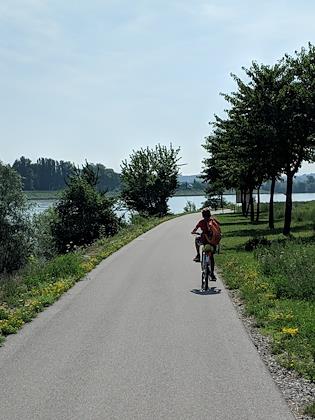 Lots of lovely biking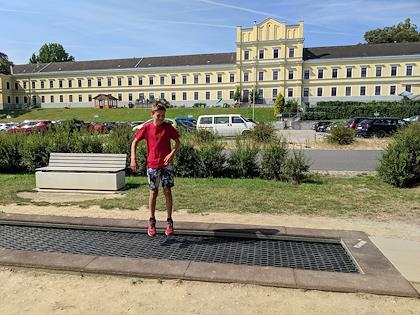 Based on what the map says, I think in the background is some kind of asylum for the disabled. They had a playground (with in-ground trampoline) out front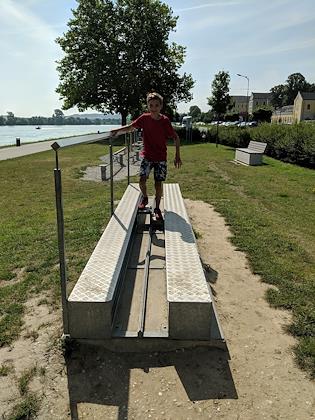 Also a weird standing-bike device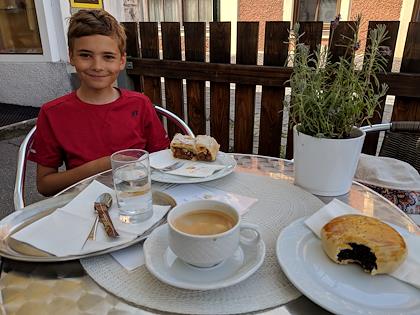 Coffee and cake - I had a poppy-seed pastry I've never had before - stuffed with a huge amount of poppyseed. Loved it!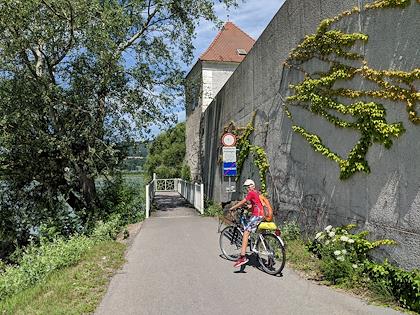 The trail really went through some beautiful areas today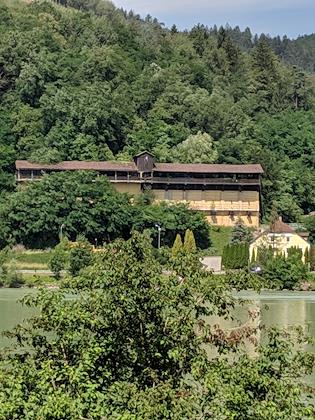 Interesting looking building on the other side of the Daube, no idea what it was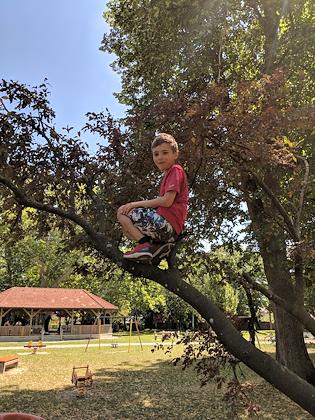 Picking plums at a playground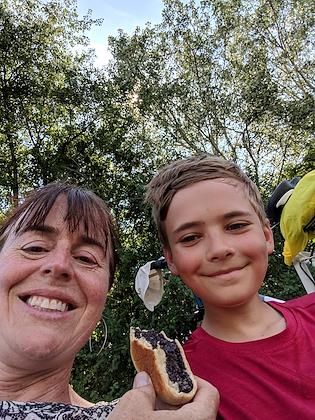 Finishing up my poppyseed pastry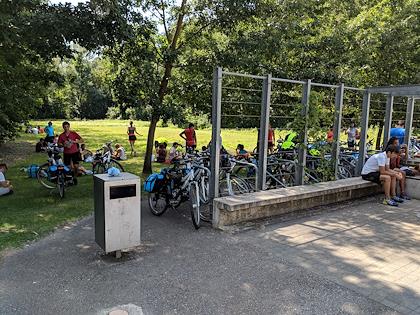 This is the second time we've seen this huge group of 50 Italian teens. Traveling in such a huge group seems like it could be really unpleasant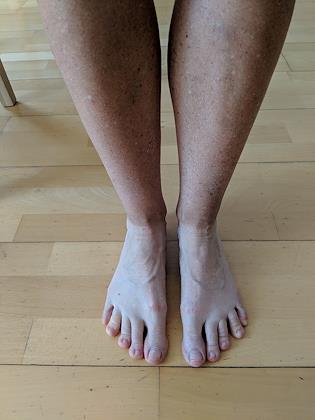 At our hotel - I was shocked when I saw the difference in tan between my feet (always in sneakers) and my legs (always in the sun)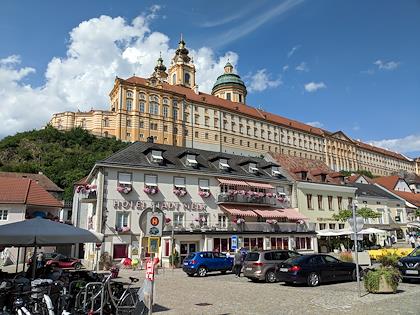 A view of Stift Melk, where we'll go tomorrow
Thunderstorms in Spitz
The plan for today was to get an early start on a visit to the famous Melk Abbey (supposedly the largest in the world), and then do a short bike ride to our next destination, Spitz, in the afternoon. And that's exactly what we did, interrupted by a few thunderstorms. Melk itself was pretty impressive, but we got through it quickly (didn't stop to read all the displays), squeezing our way through the multiple guided tour groups. It seemed like almost everyone was in one of these groups. No photos were allowed, but plenty of people were taking photos.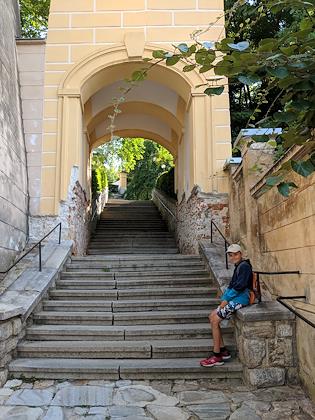 The staircase towards Melk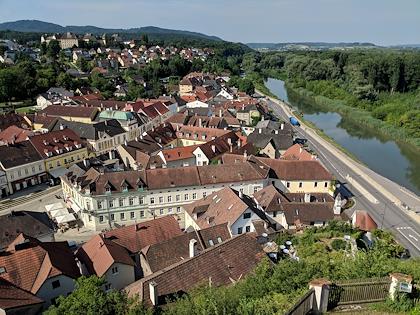 A view of the town, from the abbey
After Melk, we biked along the south side of the Danube, which is supposed to be far superior, apparently it doesn't go along busy roads so much. We got seriously into heavy duty Apricot Country - so many apricots, everywhere! Peter picked two from a tree that looked wild, they were delicious! We've bought them from stores a few times, but have had mixed results with them.
Here's a few more photos from the bike trail.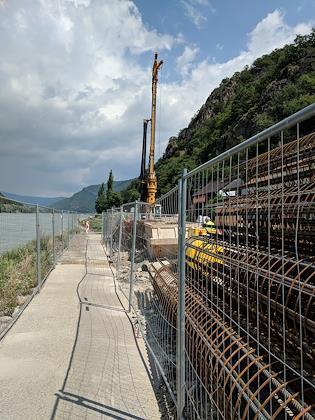 Detour on the bike trail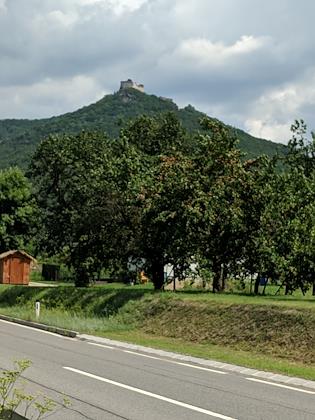 Aggstein ruins, with an apricot tree below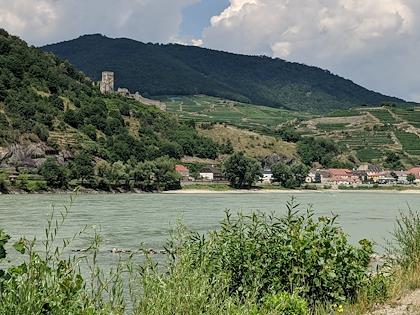 Hinterhaus ruins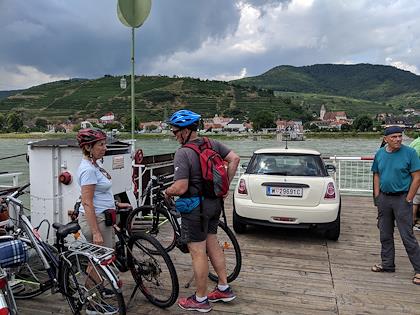 The ferry to Spitz
I wanted to go up to the Aggstein Castle ruins, which are very famous, but after I finally convinced Peter to give it a try, the sign saying it was a 1 hour 15 minute walk, plus the rain, turned us off. So, we biked on.
Arriving at Spitz, I was waffling about whether we should eat lunch first, or go straight to the pension (small hotel) . It started raining harder, and our pension was very close, so we headed to it and got there just ahead of some heavy rain. We rested a while, then went to a restaurant (Donau Prinzessin) to split a pizza, and a Mohnzelt (I learned that's the name of the pastry I had yesterday, with lots of poppyseed inside). The rain had started again, and a tour group of brits on folding electrical bikes sought shelter in the restaurant. I tried to engage the lady next to me in conversation, but she was very upset that the waiter wasn't coming over to her immediately.
Later on in the day, we went to the Hinterhaus Castle ruins. They were great - from the 12th century, you could go all over (cellar, tower, and everywhere in between). Great views, too. Most of the time Peter and I were there alone. I was very happy that we did get to see some very nice ruins today (free, too!), after missing the Aggstein ruins.
The Hinterhaus ruins are not publicized at all, and because of that, there's almost nobody there. Also, you have to walk up. But since I like the less touristy places anyway, it worked out great.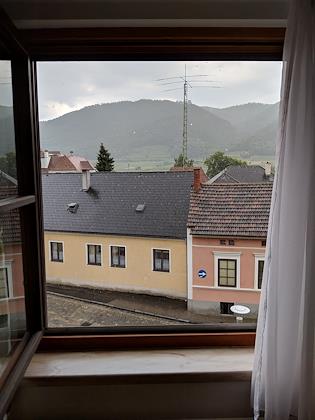 The rain from the window in our room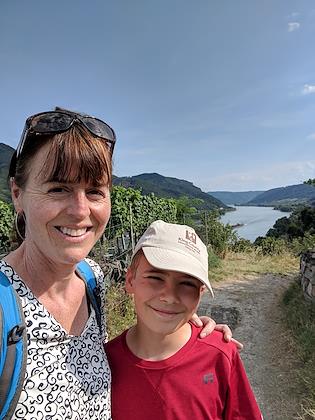 Sunny again - headed towards the ruins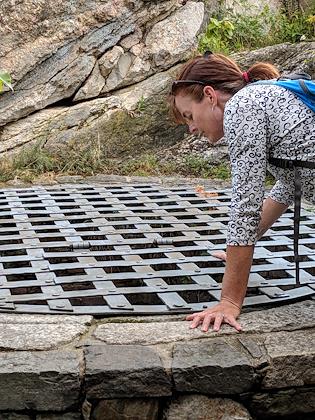 The well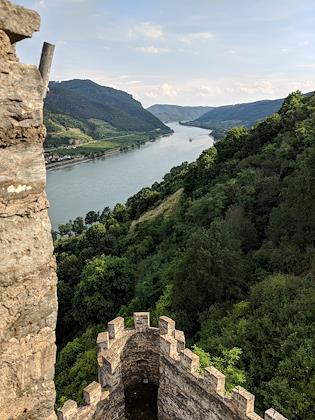 View from the ruins, looking upstream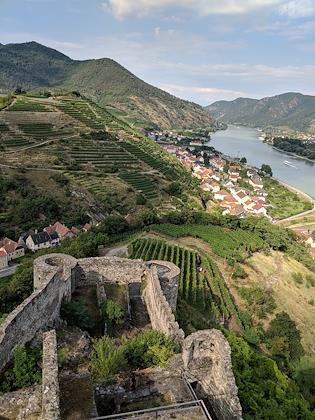 And looking downstream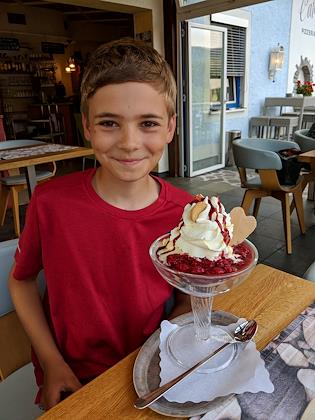 An ice cream for Peter
Our Pension (Pension Gebetsberger) looks good, AND has good internet, for the first time in 3 days. I actually had to call 3 places in Spitz before I found this one. I now know why that is - there's a festival here, starting tomorrow.
Next-to-last day biking - Tulln
Today was a day of contrasts in biking. We started out biking through the lovely wine growing area of Wachau, traveling through the old villages there. And then we got past the Krems area - pretty industrial-looking then some very long straight stretches, along the Danube.
The plan was to do nothing touristy today - just bike - because the goal was to make it our longest distance biking day yet - 61 k. For the first time ever, I didn't have a hotel booked. We hoped to get to Tulln, but were prepared to stop early if we got too tired, so I didn't want to book anything. Here's a few pictures from the quaint vineyard region - the Wachau (first part of the ride).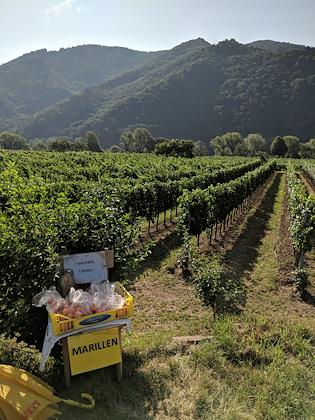 We bought some apricots here. Apricots are iffy though - some are great, many are mediocre.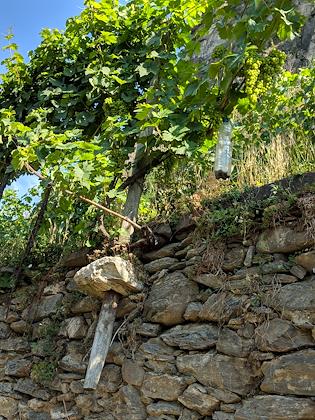 These stones had holes chopped through them, where the post would go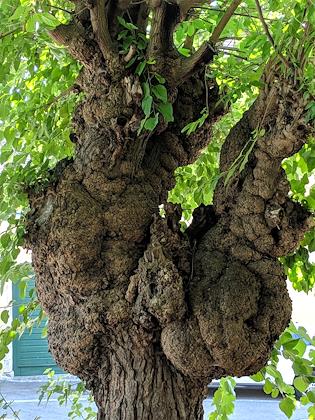 A gnarly old tree
One of the first towns we got to was Durnstein, which is a very famous old town - I believe it's famous for the ruins of an old castle. I'm glad we saw the castle ruins yesterday in Spitz, I have no need to see any more ruins today. We didn't do anything touristy today, just biked and biked. Actually in Durnstein we had to get off the bikes because there were so many tourists - lots of American tour groups, actually, based on their accents. It was good to get through town and out to where we could bike again.
Krems was stressful to bike through. It had a nice bike path, however it kept intersecting with roads where you'd have to stop. Took a while to get through there.
Here's a few photos from the later part of the ride.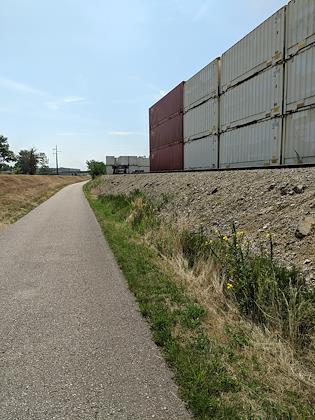 A very industrial part of town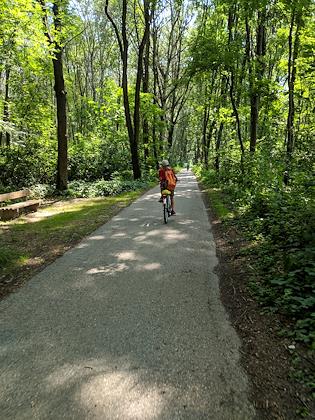 In the woods for a short while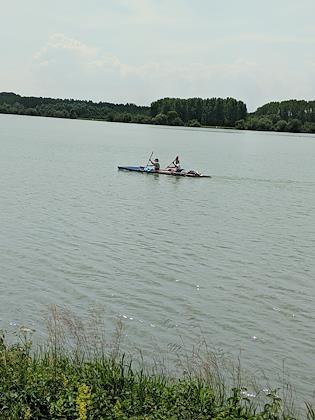 We saw these kayakers camped out, many days ago. Kayaking down the Danube seems a little boring...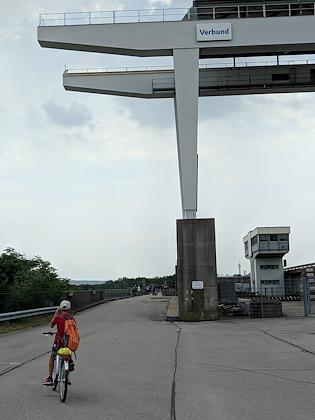 Another dam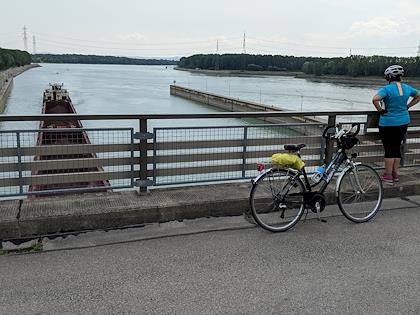 Boat going through the locks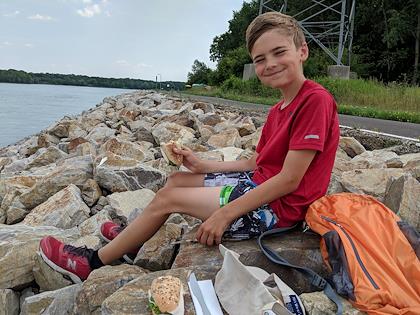 Lunch on the riverside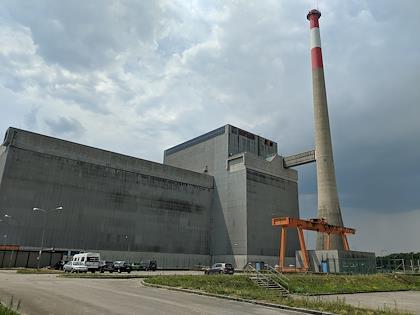 The never-used nuclear power plant in Zwentendorf. What a waste.
This makes...I think the fourth time we've seen this huge group of Italian teens.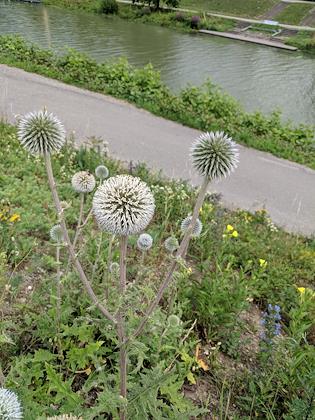 Interesting looking roadside plant, just outside of Tulln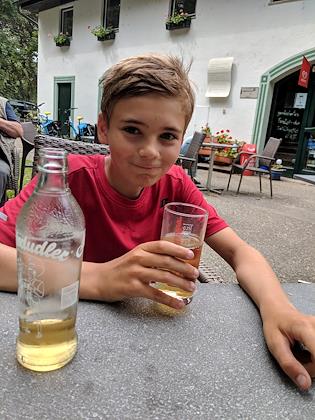 Peter was pretty tired after our ride - here he's drinking an Almdudler - kind of an herbal soda.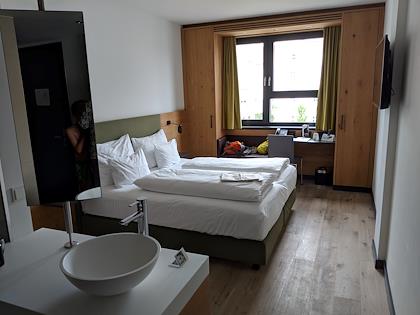 Our room at the new Diamond City Hotel. It was fine, but too modern - couldn't block the sink so I could wash out some clothing.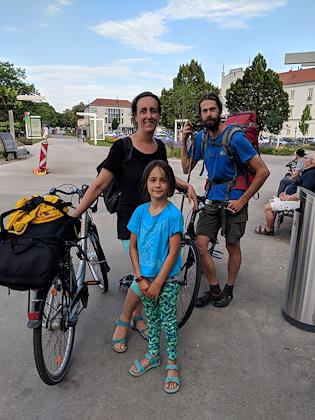 The Canadian/Austrian family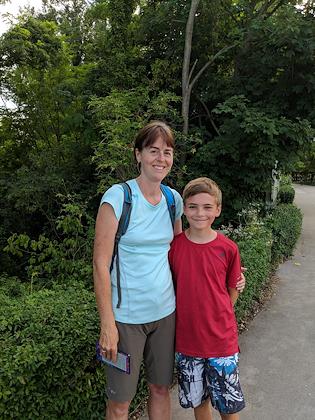 She took a picture of us, too.
In Tulln (while at the playground, as usual) we saw the family again - the wife from Canada, the husband Austrian, and a 7 year old daughter. I learned that they had gone on the left hand side of the Danube after leaving Grein - which is the wrong way to go, there's no trail there, so you have to bike on the road. That must have been pretty stressful with their 7 year old daughter, on her own bike. Too bad they missed the south side of the Danube, that was one of my favorite sections - very peaceful. It was around 6, and they hadn't booked a room yet. They didn't seem stressed about it at all.