July 14 - 16: Linz - Grein

Seeing family in Linz
Another rainy day in Linz, but it all worked out well - we went to a kind of science museum (Ars Electronica), and then saw family.
First was breakfast at the hotel - a very fancy one, as it was extra, not part of the room cost. But kid were free, so it worked out. There were noticably a lot of older folks at this hotel - don't know why that is. Then we went to the museum as soon as it opened at 10. The museum was a little different from what I expected - I expected a science museum to be very kid-oriented, but it really wasn't, not very much. There was one very kid-friendly area, but mostly either very stark electronic art type exhibits, or very dense displays (like the musical history section).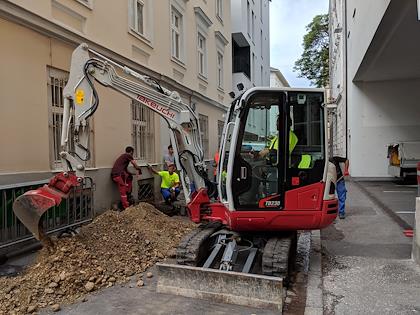 Construction work was happening right next to the hotel - no way we would have been allowed to walk by, if we had been in the US!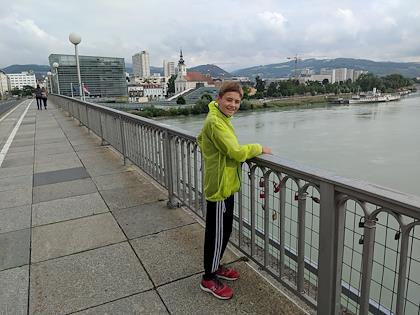 Crossing the bridge to the museum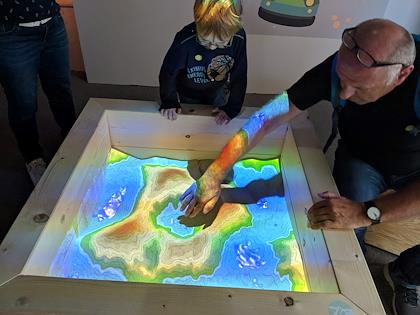 This was one of the cooler displays in the kids section - like a sandbox, with automatic contour lines
A virtual reality display
I got a call there from my uncle Fritz - he and my aunt Daniella were driving up from Kaernten, where they were visiting her mother, who is also going to have a knee replacement surgery (same as my uncle did). He later met us at the Ars Electronica museum, and we went together to an Indian restaurant. The food there was very good - too bad we had eaten so much at the breakfast buffet! My German was, as usual, very rusty and clumsy, but I usually managed to say what I needed to say. Then we went to my uncle and aunt's house and had coffee and cake, and met my cousin Laura, and her children Heidi (3) and Ferdinand (1). Peter - starved for companionship his own age - played with the children quite a bit. Their grandparents house has lots and lots of toys! Laura lives in Ottenheim, with isn't far away, so they visit often.
Mauthausen
We got an early start out of Linz today, 8.30 am. After an obligatory visit to a trailside playground, there was a long stretch of beautifully paved dedicated bike trail, with lots of bikers. One family of 5 from France passed us, with all their camping gear, too.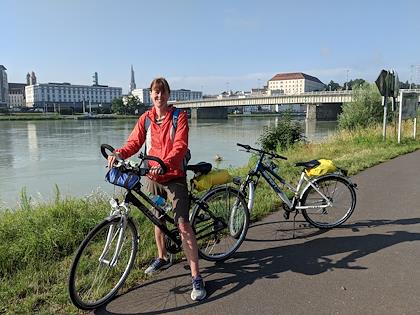 A last view of Linz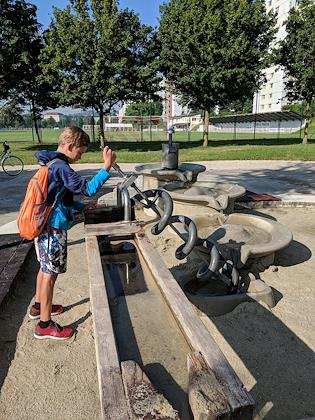 A water-moving device at a local playground - I think it's called an Archimides Screw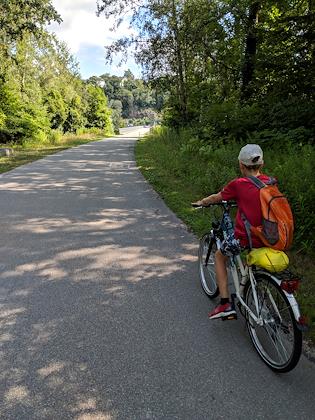 Along the trail
The destination for today is the town of Mauthausen, but on the way, we also visited the Mauthausen concentration camp. I was there once before when I was about 12 years old, with a school group (my aunt was a teacher, and managed to get me taken along on this school trip).
The visit to the Mauthausen concentration camp was less affecting than it was when I was 12. I think it's because they changed things significantly. If I remember right, there were rooms and rooms of different things like suitcases and shoes, taken from the prisoners when they arrived. And the barracks still had beds in them, so you could really visualize more, what it had been like.
Now it's very different, the barracks are all completely, 100% empty, and there's no displays of items from the prisoners, like there were before. Also, before you were allowed to go down to the quarry, where the prisoners were made to work. Not any more, it's all off limits.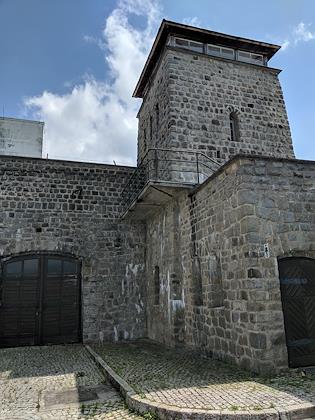 Just inside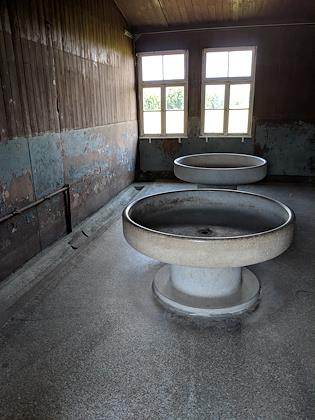 A washroom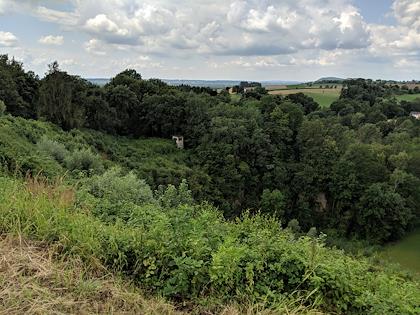 The quarry pit, where many prisoners were made to work
We stayed there a few hours, then went on to our hotel, Gasthof zur Traube. A nice room, kind of basic, but unfortunately the internet doesn't reach up to the 4th floor, where we are.
After resting in our room for a while, we walked to the modern part of town, where there was - a MALL! Yes, a pretty authentic looking mall, full of chain shops. I haven't seen that yet. We went to the McDonalds and got Peter a chicken burger.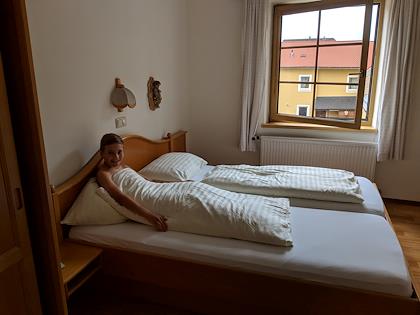 The room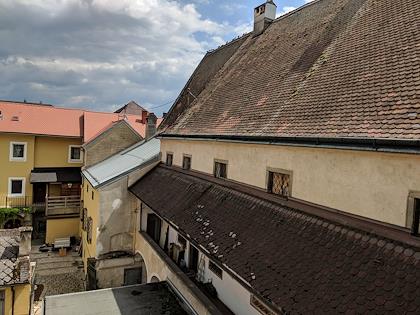 View from our room - it's supposed to be a building from the 1500s.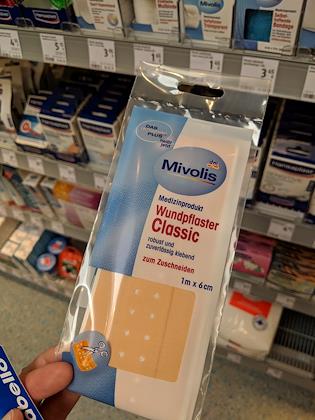 I remember these "cut your own length" bandages from decades ago - now they're "classic"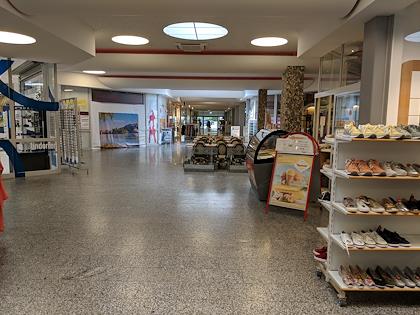 The mall - pretty quiet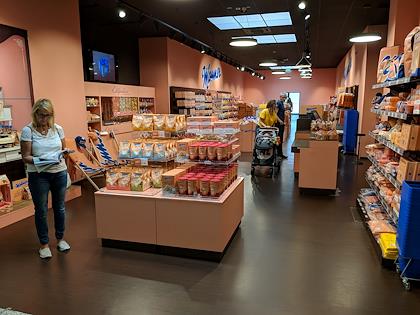 There was a "manner schnitten" store - they're a type of cookie wafer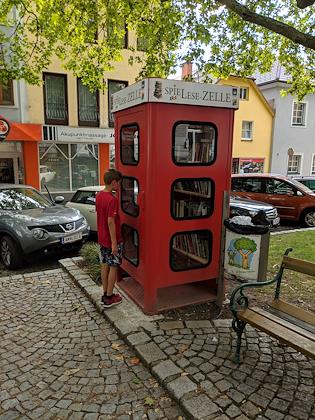 This old telephone booth is now a "tiny library".
I still need to do some planning for tomorrow - we may head to Grein, about 30 k away, or we may try to do a little longer distance. We only have 9 more full days in Austria - and we want to spend a few of them hanging out in Vienna.
Arriving in Grein - should have called this blog "Playgrounds Through Austria" instead of "Biking Through Austria"
We left the hotel last night around 8.30 in the morning, after one of the skimpier breakfast buffets that we've had - no yogurt, which had been there at every breakfast buffet. But it was relatively cheap (65 euros) because he gave Peter a kids discount, so not too many complaints. Except there was no internet... Chatted with some British guys at the breakfast buffet - two young men, and their father, who were biking together from Passau to Vienna, as almost everyone is. They were headed to Melk today, which is 80 k - far longer than we've ever done.
But I'll bet they don't stop at all the playgrounds, like we do! Yes, pretty much every single one - there's always some fun equipment for Peter to play with for a while. They take their playgrounds seriously here. Like I said in the blog post title - this blog should maybe be called "Playgrounds through Austria"! Here's a few pictures from along the trail.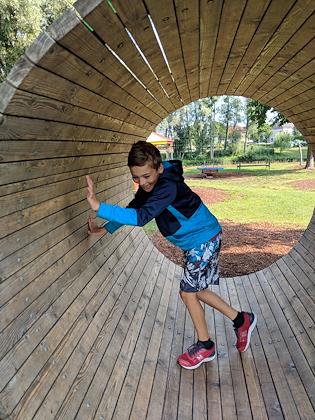 I remember in the late 1970's, this same piece of playground equipment was in Charlotte, NC. Not any more!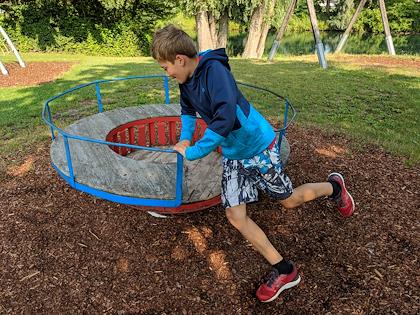 These pieces of equipment seemed like they were from the 1960's. They spun very quickly!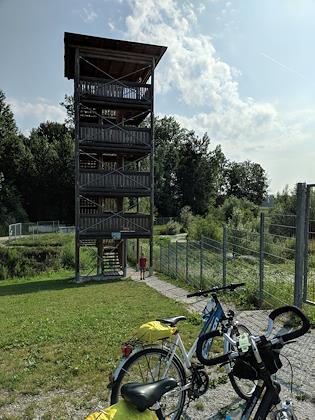 An observation tower along the Danube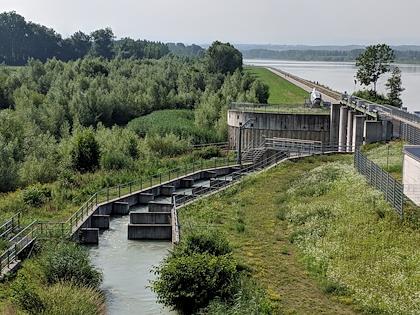 Great view of the fish ladders
We also stopped at an open-air museum called Keltendorf Mitterkirchen. They found some Celtic relics, dating from around 700 BC, and recreated a village from that area based on their finds. It was fine, but would have been more interesting if Peter had been part of a school group, because they got to do all kinds of era-appropriate crafts (weaving, pottery, making jewelry). But Peter had lots of fun feeding the goat!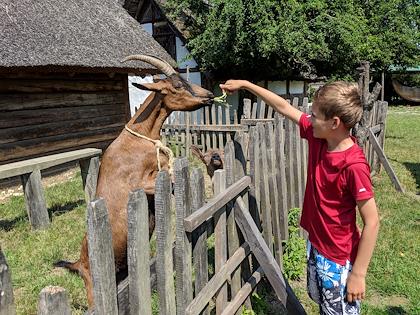 The goat loved tree bark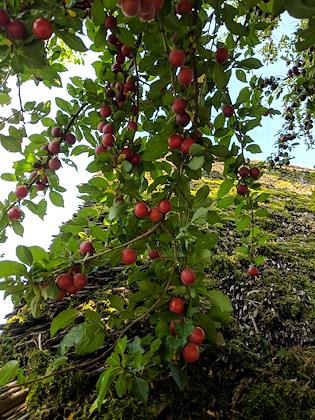 These tiny plums were plentiful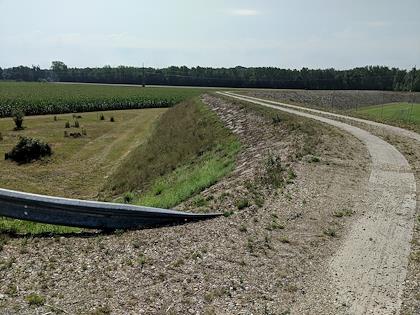 The top of an elevated flood protection mound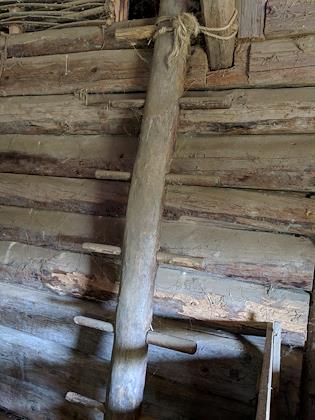 An old-style ladder
We got to the hotel around 1 or so, and hung out in the room a bit before going out for a sandwich, and touring the town. It was a little smaller than I thought, and VERY much bike tourist focused. There's a castle in town, which is supposed to be great, but we've seen a few castles already, so we skipped it.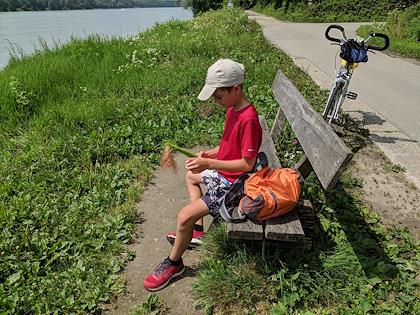 An ear of corn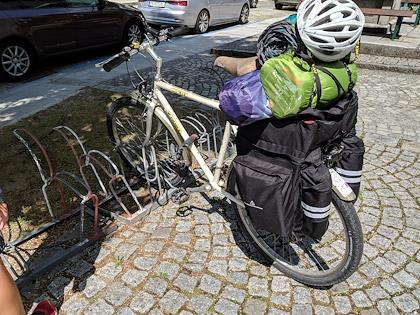 This biker is doing it the hard way - camping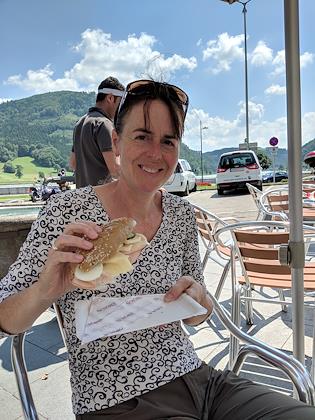 A sandwich along the bike trail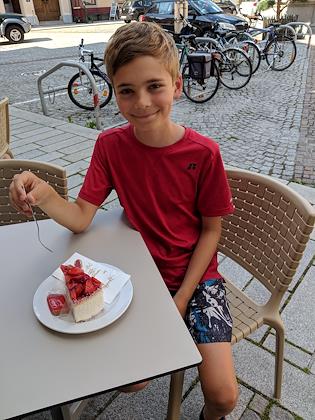 We're starting to have regular "Cafe und Kuchen" breaks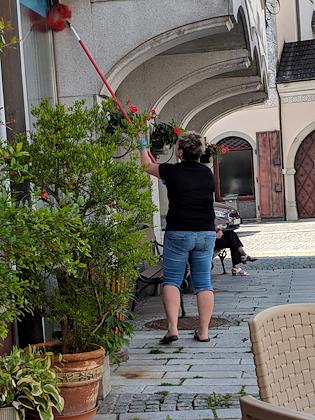 This lady was cleaning spiderwebs off her storefront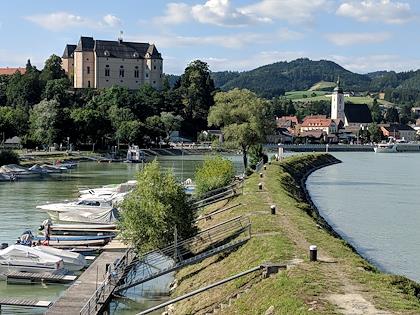 A beautiful view of the castle in Grein, along with the harbor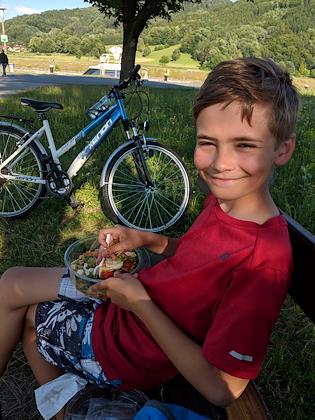 We're getting tired of the standards, so for dinner we bought some packaged salads from the grocery store
Yes, there's definitely lots of things that we're NOT seeing, along with the many things we are. The Brits that I spoke with this morning had the detailed guidebook for this bike trail, with all kinds of highlights and history, but I'm okay with just taking things as they come, and only seeing whatever is very close to the bike trail. It feels like every day is packed, anyway.
The weather is perfect - not too hot, high around 81, mostly not a cloud in the sky. My Achilles tendon has been bugging me a bit - all the bike riding is not good for it - but so far it's not too bad. My left wrist is a little sore from holding the bike handlebar for so long, I try to hold the handlebar in different positions, to give it a break. I wonder how things would be if we were biking 80 kilometers a day?