Lunch at a place called Bruce Bay.
There was a great beach on the bay. No sandflies (or maybe it was too windy for them), wild-looking. No swimming, though.
Lots of rocks that were great for skipping!
---
---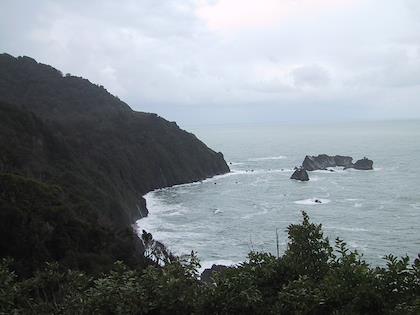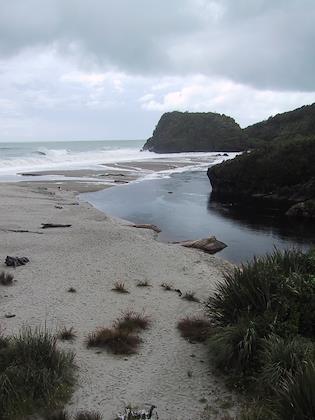 At Knights Point, further south.
We also took a walk at Seal Point. Great beach, but lots of sandflies. Around one little wind-sheltered area I counted about 40 around my legs.
---
---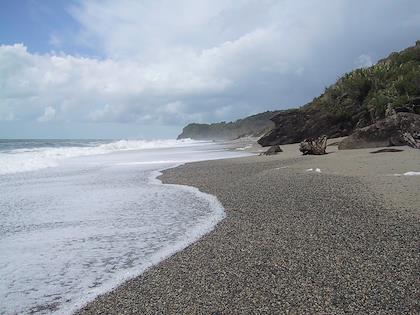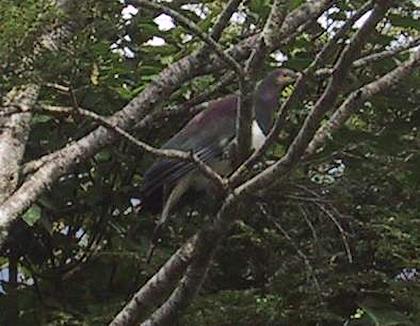 Going over Haast Pass - this shy bird is the New Zealand Pigeon
---
---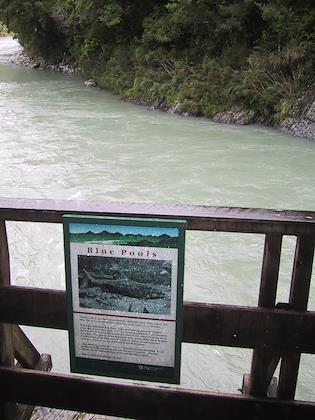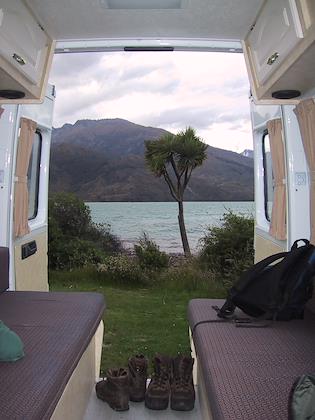 The "Blue Pools" (a little walk off Haast Pass) weren't blue anymore because of the downpour.
We stopped for the night at a little peninsula on Lake Wanaka.
---
---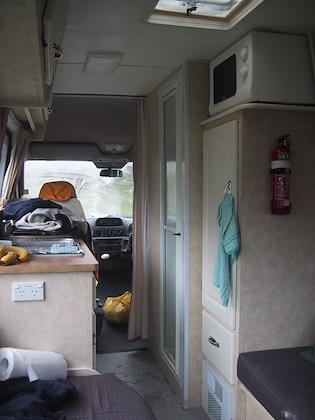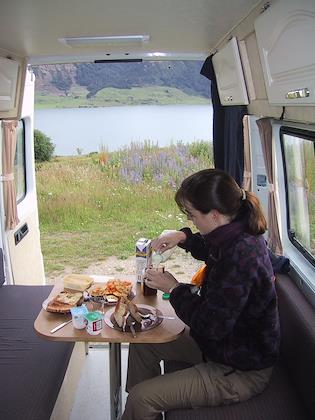 The interior of the campervan.
Breakfast on the way to Wanaka
---
---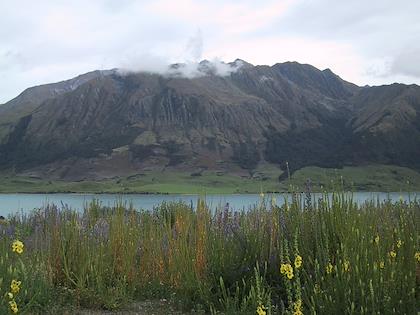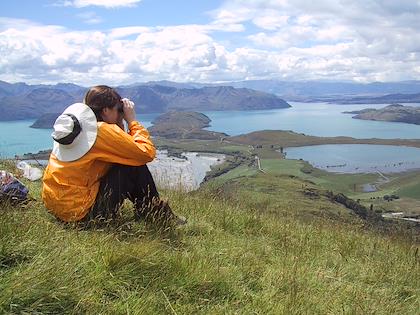 We did the Diamond Lake Track, close to Wanaka. Very scenic, right on the lake, and great views.
---
---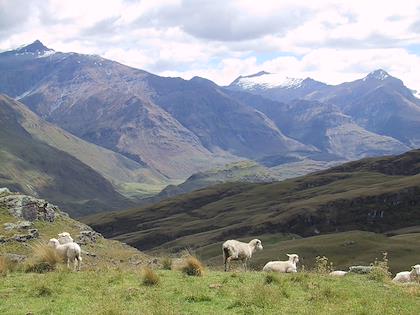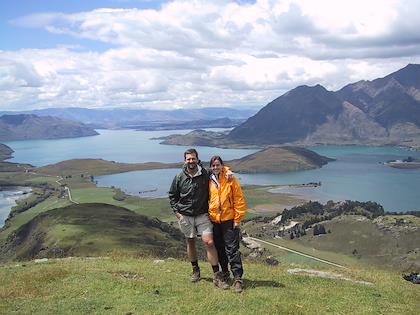 ---
---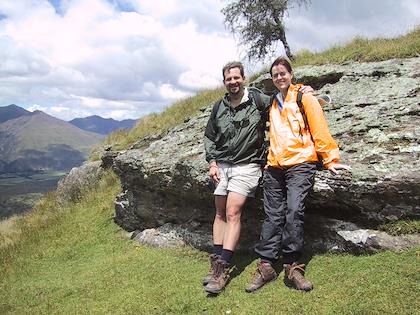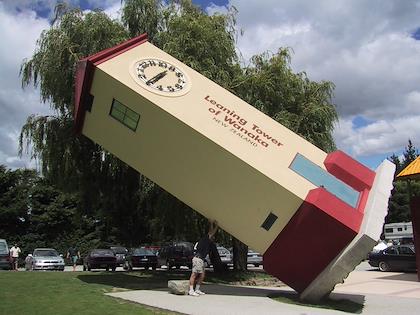 Later we went to a place called Puzzling World, which includes all kinds of puzzles and optical illusions, plus a large 3-D maze.
---
---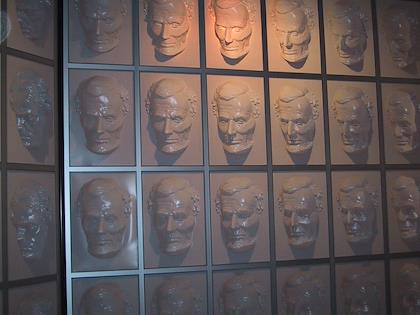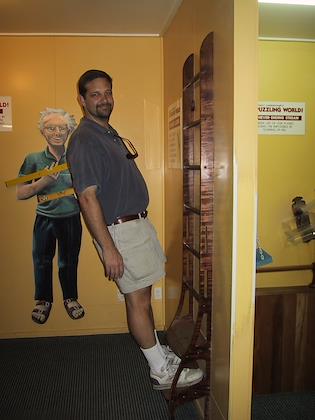 In this display, the molds (which were actually inverse) seemed to be following you around the room as you walked. Very eerie.
He leans, but doesn't fall! This is a room that was built on a 15 degree angle. Walking through it, I stumbled all the time because my mind was telling me that the floors were level, when they actually weren't.
---
---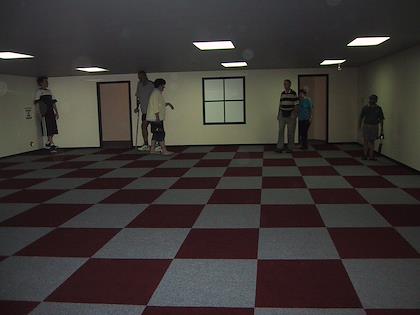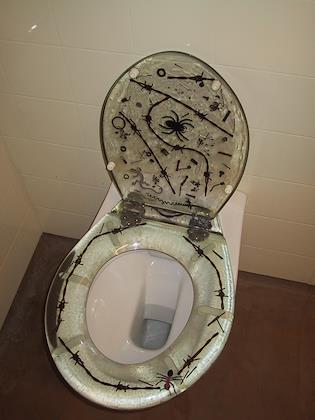 If you look carefully, you can see people in the left hand corner looking like giants, and in the right hand corner, looking very small. This room uses the same optical illusion as in the movie Willie Wonka and the Chocolate Factory.
There were funky toilets seats, too. This one had all kinds of funky nails and barbed wire embedded into transparent acrylic.
---
---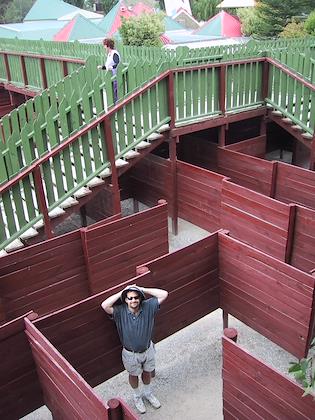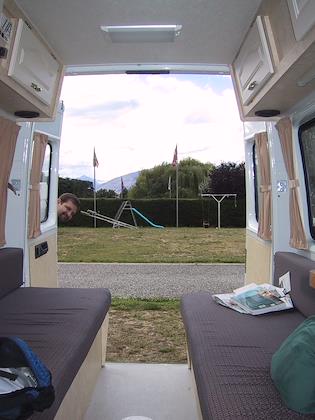 We finally got through the maze. After lots of walking around, I was getting tired and restarted, turning left only. That worked really well.
The motorcamp in Wanaka.
---
---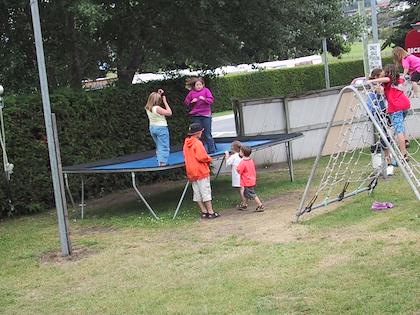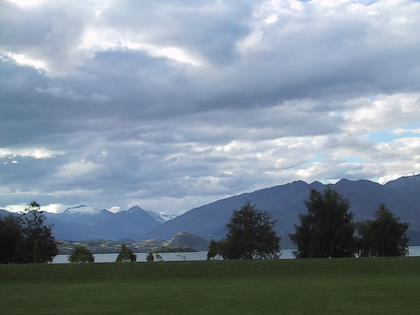 Trampolines are very popular here, and I think every motorcamp has one. You don't have to worry about lawsuits in New Zealand, obviously.
An evening walk around Wanaka.
---
---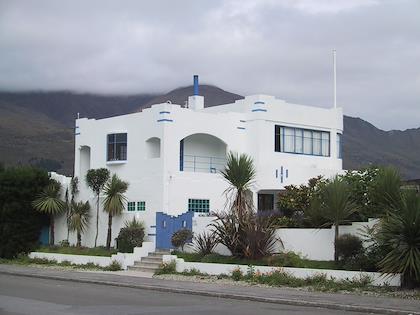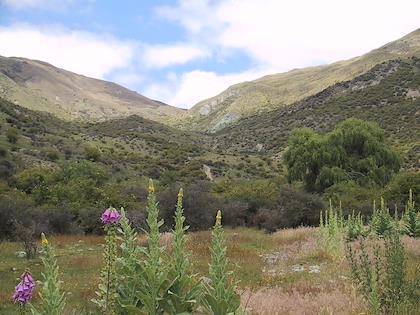 Art deco buildings are plentiful, and usually very well preserved in New Zealand. There must have been a real building boom around then.
We started up the Roaring Meg track. It was a distinct second to yesterday's hikes, because it turns out the old gold-mining relics (old huts, equipment, etc) that we were supposed to see were many, many hours into the hike. This is the valley we walked up.