---
---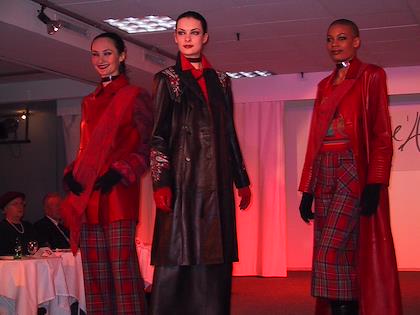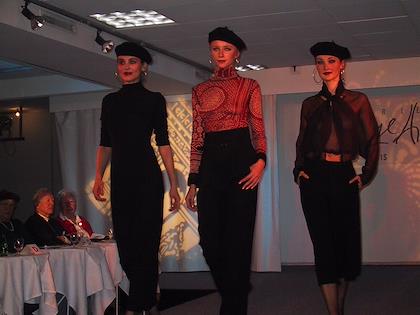 The dress on the left here was the only one that I liked. The rest were too far out for me.
---
---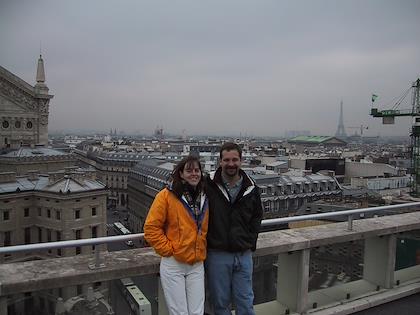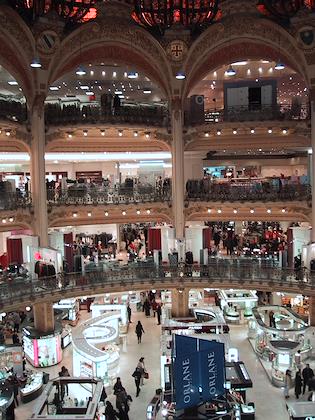 This picture was taken by a couple from Virginia who had signed up for the fashion show as well, but got up too late. We told them to check out our web site and look at our pictures of it. We didn't get their names, but if you make it here, greetings!
This is the inside of the store, built around a huge atrium. I was surprised to see that the store itself seemed a little shabby and in need of renovation.
---
---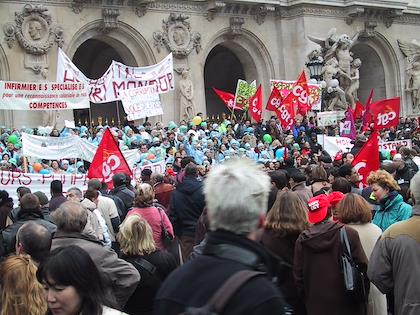 This coat was in the fashion show, one of the first things that they displayed. Right after Eric took this picture the lady came up and said no pictures.
We found the hospital strikers again, just in front of the opera. It seems like striking in France is a national obsession. They tied up the traffic tremendously--good thing we weren't driving.
---
---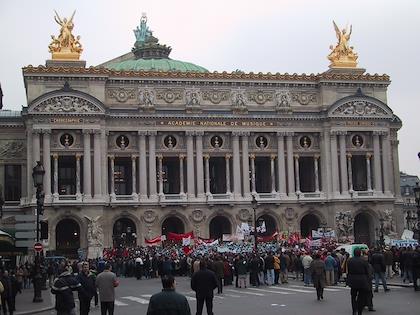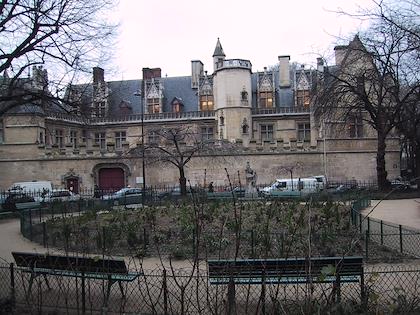 Back at the hotel, we went for a walk in the neighborhood (the Left Bank). This is the Cluny Museum of the Middle Ages.
---
---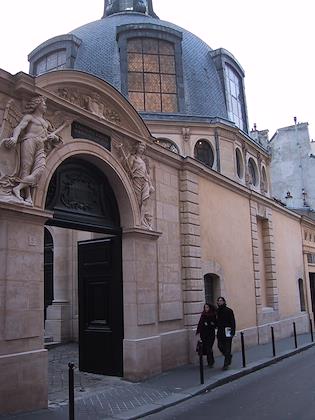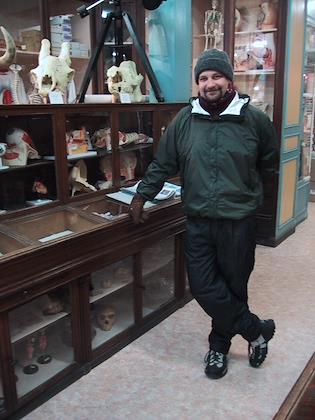 Part of the University of Sorbonne, very close to where we stayed.
Lots of interesting stores in the area. We went into a store that caters to medical students, with all kinds of teaching supplies (models of the eye, etc.).
---
---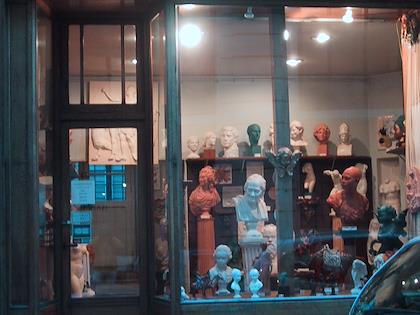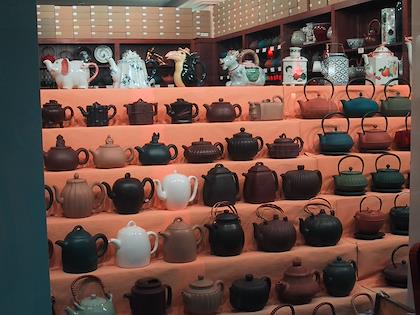 A store of sculpted busts.
A teapot store
---
---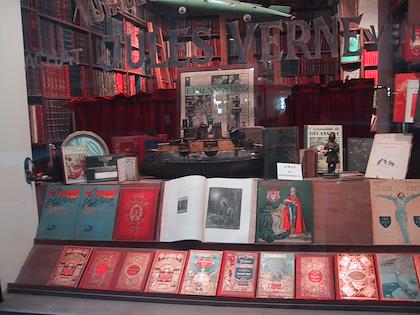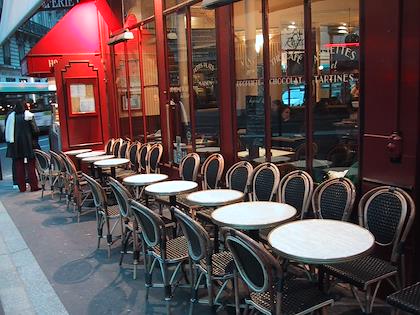 Another Jules Verne store (our second)
A typical Parisian cafe, with chairs on the sidewalk. It's a little to cold to be drinking coffee outside, though.
---
---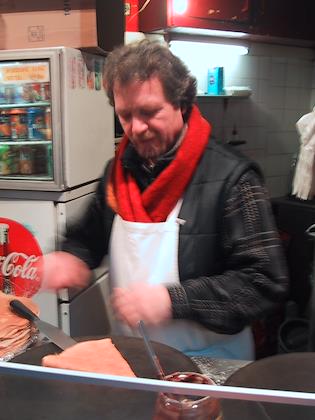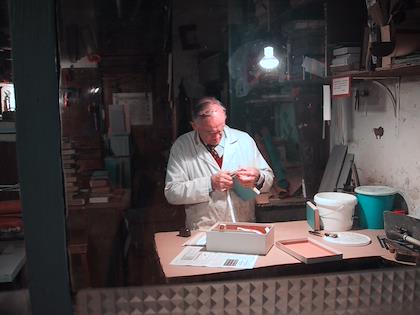 We bought our first crepe from this guy, and almost got ripped off by him. It was 15 F, we gave him 50 F, and got back 25.20 F. He was hoping that we'd think the 20 centime coin was a 10 F coin (they both have a bronze color). After we'd walked away, Eric counted the change and realized we were short. We walked back and told him we didn't get the right change. First he said he'd given us another 10 F coin, but then he he gave us the right change.
A bookbinder in his workshop.
---
---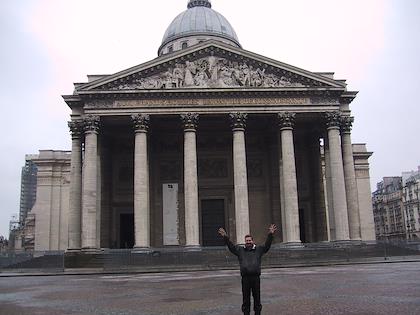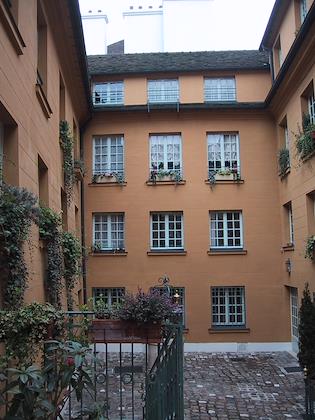 The next day we walked by the Pantheon on our way to the Mouffetard (a big market street). The Pantheon was built as a church, but is now something like a secular mausoleum.
A pleasant little courtyard close to the Pantheon
---
---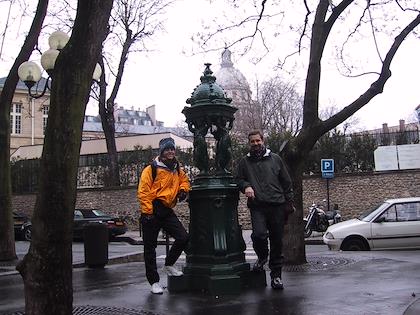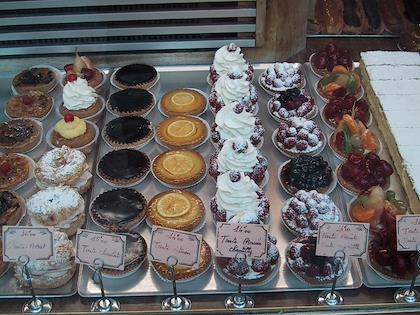 Pantheon in the background, and the guy who took the picture for us called the green thing a fountain, but I didn't see a place for water to come out.
Yummy, delicious little tarts in a store window. We tried many pastries like these. I think my favorite was a coffee eclair.
---
---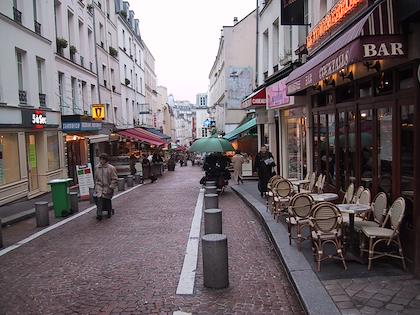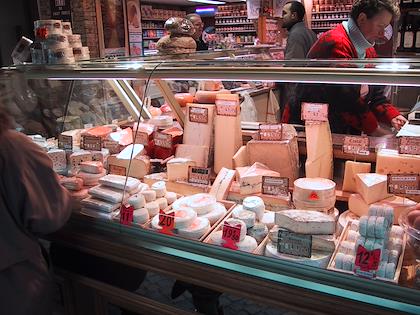 Rue Mouffetard.
A cheese shop. Tons and tons of selection here, as expected.
---
---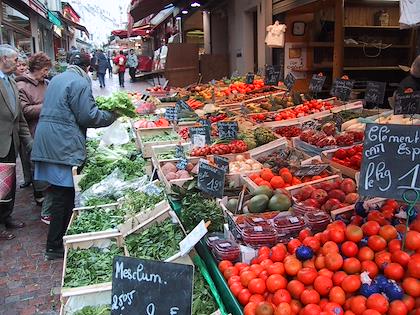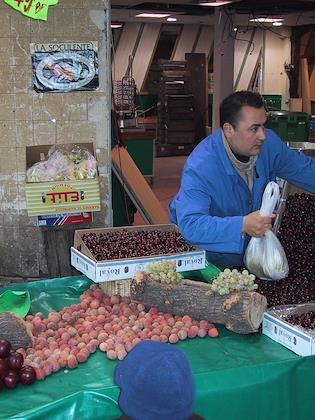 A fruit stand on Mouffetard.
I bought some Lichee fruits from this vendor. I was really surprised by the fact that they're so popular here--you see the shells everywhere. Apparently they're imported from Madagascar.