---
---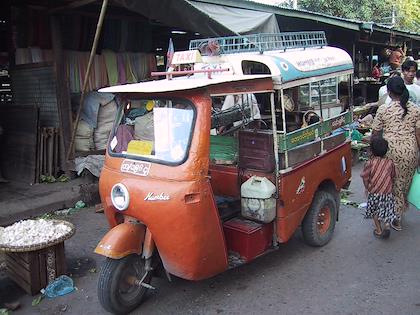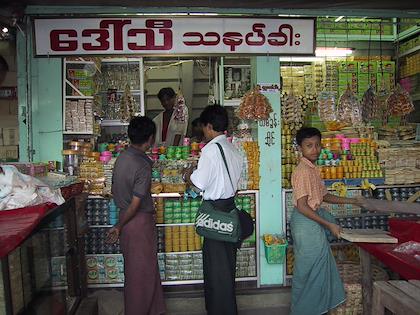 This is a typical taxi in Mandalay, a three-wheeled pickup-type contraption. I took them a couple times, but it seemed like the exhaust was piped directly to the passengers in the back.
A shop selling thanaka, a yellow paste that's used on the face. My guide is in there buying some for his female relatives.
---
---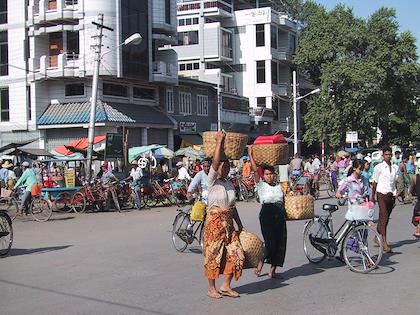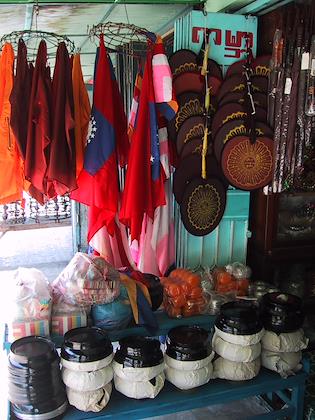 Woman at the market, carrying things on their heads.
A monk supply store, with everything a monk needs--fan, begging bowl, monk undershirt.
---
---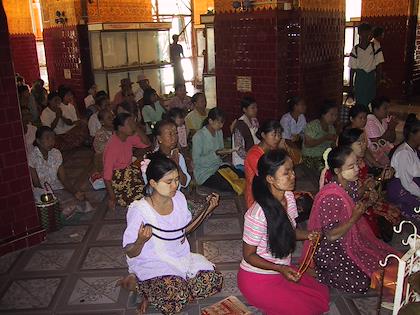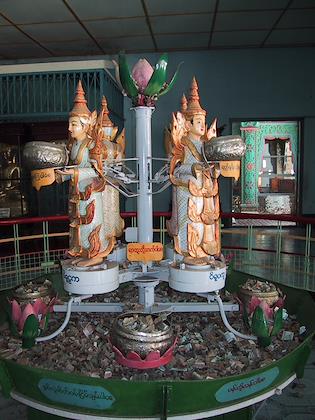 Woman praying at the Mahamuni Paya in Mandalay

. This is a temple where women were not allowed in closer to the Buddha image.
A revolving spirit shrine. You toss in money, and try to get it into the bowls. I assume that if you get it into the bowls, your wish is more likely to be granted.
---
---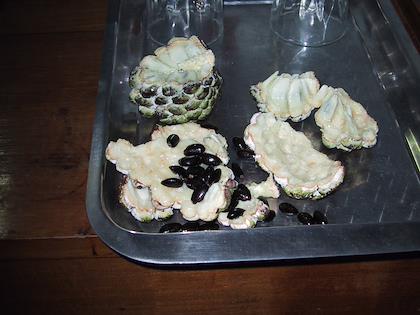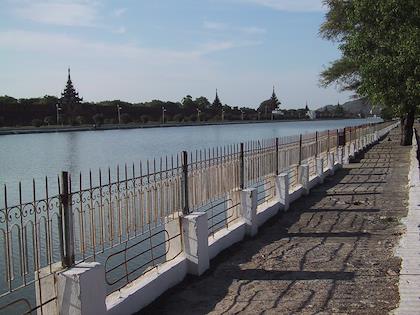 I bought some custard apples at the market. It's a strange fruit--you break it open, and there's these little nodules inside that you suck the flesh off. The large brown seeds are in the middle.
The eastern side of Mandaly palace, surrounded by a moat.
---
---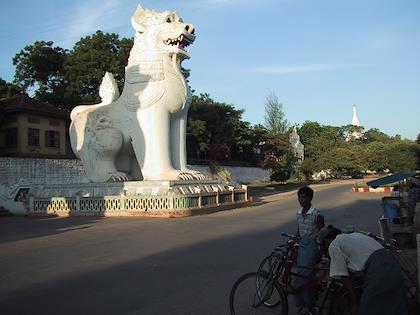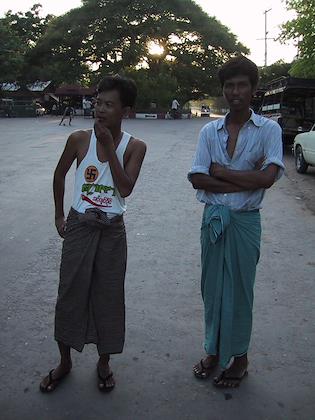 At the base of Mandalay Hill. The outside of temples often have lions like this.
On the left is the taxi driver that took me to the top of Mandalay Hill. Notice the swastika on his shirt. It's a traditional symbol here, but I've gotten mixed reports on what it means.
---
---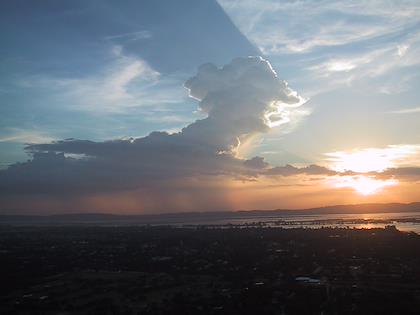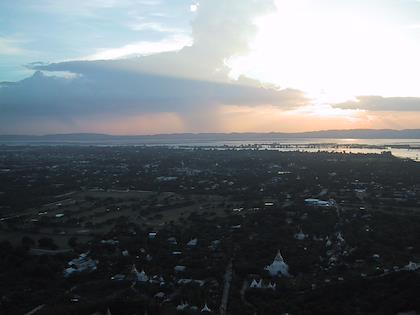 Sunset from Mandalay Hill.
---
---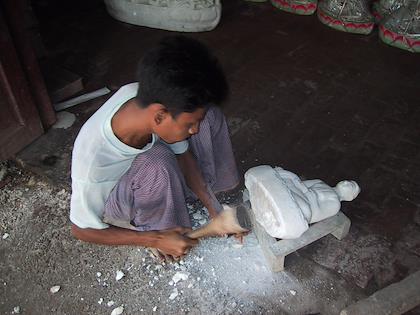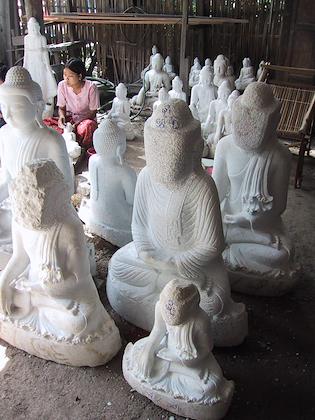 On our way to Amarapura (we were on bikes) we stopped at a marble carving workshop. Here the worker is finishing up a Buddha statue.
The man who normally carves the faces has been out ill.
---
---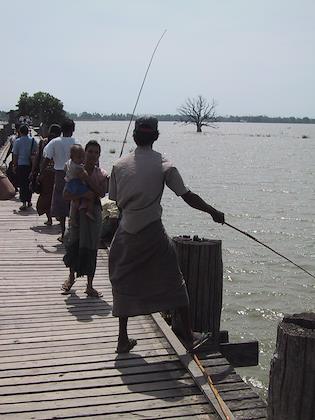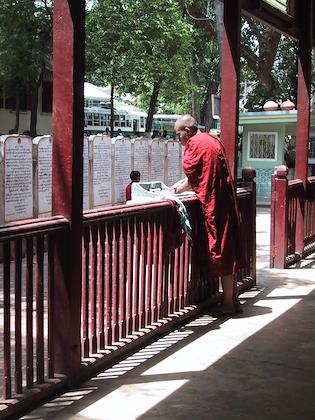 This is a very old teak bridge near Amarapura. No bikes were allowed to be ridden across it, in order to preserve it.
A monastery near Amarapura. The monk is washing his hands after eating (they eat with their hands).
---
---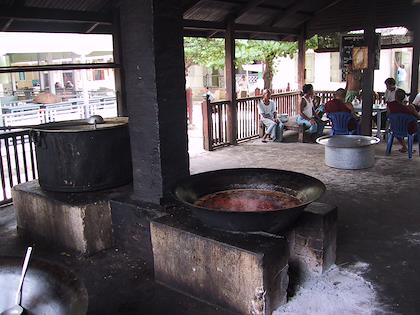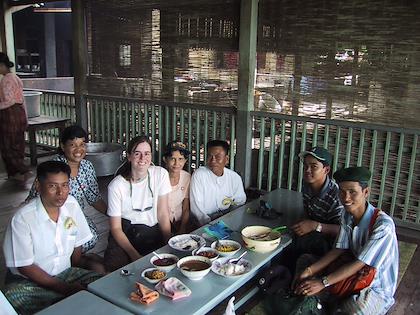 The monastery kitchen.
Many pilgrims travel throughout Burma in groups on buses (if they have a little money) or trucks (if they have less), visiting the more famous monasteries. At this monastery close to Amarapura, some pilgrims invited me to lunch. The pilgrims sleep and eat at an area set aside for pigrims at the monastery during their stay, and cook their own food.
---
---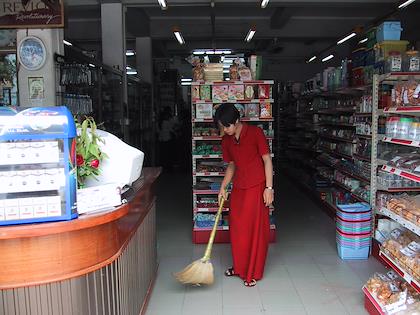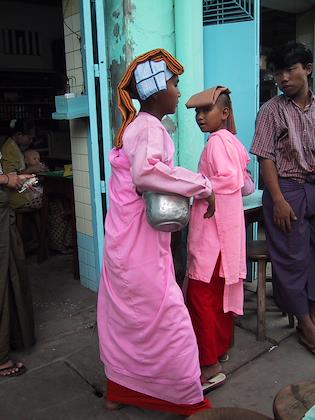 The first supermarket I ever saw! They had bar code scanners and everything. I actually found some dental floss here.
Nuns, on one of the two days each month that they go around, asking for alms. Most restaurants and shops have a stack of small bills (very small, less than a cent) that they hand out, or sometimes bananas.
---
---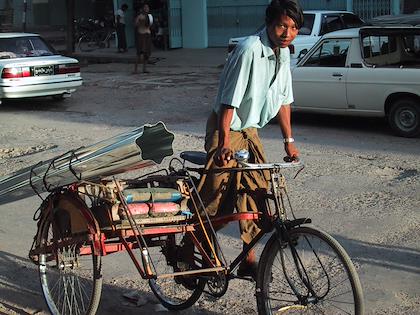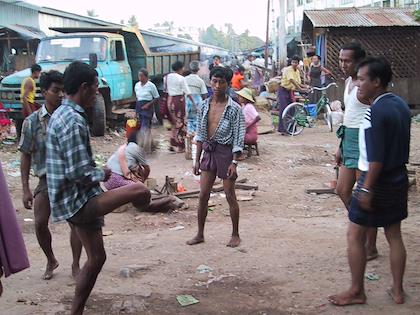 Trishaws normally transport people, but this kid is transporting some corrugated metal.
This game is a lot like hackey sack, except it's played with a large wicker ball. You can't see it in the picture, it's a blur.
---
---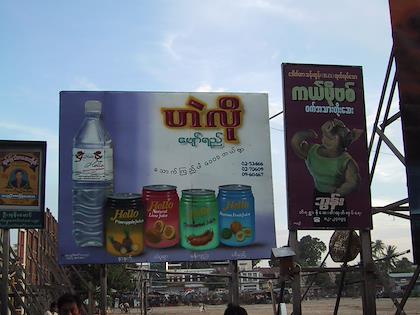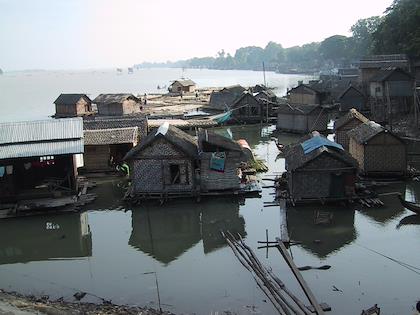 Billboards...advertising a fruit drink, and pig food.
Houseboats on the waterfront. This was a very poor part of the city.
---
---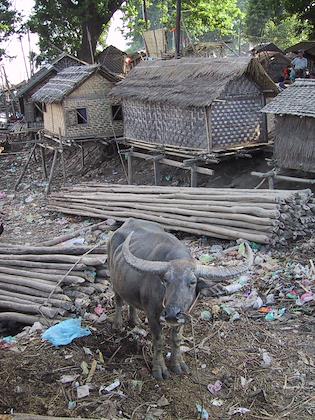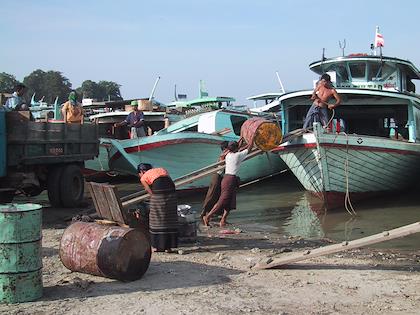 Normally there's lots of water buffalo at the waterfront, but I missed them this morning.
Hauling a barrel on a boat